AgriNation Network
New Delhi | 31 Jan 2017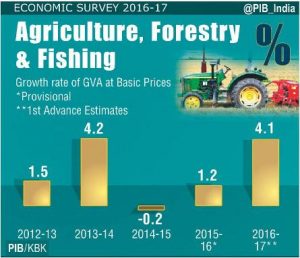 Economic Survey has pegged agriculture sector growth at 4.1 per cent in the current year, up from 1.2 per cent in 2015-16. However, it also underlined that demonetization has led to job losses, decline in farm incomes, social disruption, especially in cash-intensive sectors. It further said that paucity of the new currency notes would also affect the supply of some farm products. But, in a survey released by RBI in December 2016, the forecast of growth rate for agriculture and allied activities' for 2016-17 is 3.1% (- 0.4%) and for 2017-18 is 2.9% (-0.1%). However, recently, Niti Aayog projected the growth to be nearly 6% this fiscal year 2016-17. The Central Statistics Office (CSO) recently also estimated that agriculture sector will grow at 4.1% during 2016-17, up from 1.2% in 2015-16 and a 0.2% dip in 2014-15 after consecutive failure of monsoon that lessened production.
The Economic Survey was tabled today in the parliament a day ahead of the presentation of the Union budget by the Finance Minister. This year Union Budget is to be presented on February 1, a breakaway from tradition of presenting it on the last day of the month.
————————————————————————————————————-