Farmers Income, policy for women farmers, increasing farmers suicides are the key questions staring at our AgriPolicy makers
Shakti Sharan 

Are we serious about increasing farmers' incomes?
There is no other big challenge facing the Indian agriculture.  The biggest challenge is that there is no current estimate of farmers' incomes so there is an urgent need for survey for farmers' income every year. First, government must calculate average monthly income for farmers for 2016-17 that would be a base against which the target of doubling the farmers' income by 2022 can be compared.  The latest available survey from the National Sample Survey Office (NSSO) is for 2012-13. According to NSSO, average monthly income per agricultural household during the agricultural year July 2012- June 2013 was estimated at Rs.6, 426.  In this only 60 percent, i.e., Rs 3, 856 was from farm business (cultivation and farming of animals) while income from wages and salary accounted for nearly 32 percent of the average monthly income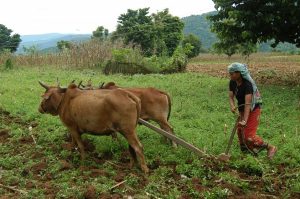 Are we focusing on policy for women farmers?
The second question is how we equip women farmers with more rights, income and benefits. In India, the society norms and restrictions on property and inheritance rights limit the access of women farmers to financial resources, land and farm technology available. Considering the increase in proportion of women farmers, it is extremely significant issue and should be addressed on priority as agricultural productivity and overall agricultural output of India depends to a large extent on women farmers. Studies show that addressing this gender gap in India's agriculture can increase agriculture productivity by 25-30 percent per home. India needs new age agriculture policy focusing on empowering women farmers and to bestow them with the dignity as farmers.
Is the increasing number of farmer suicides just a statistical data?
According to the National Crime Records Bureau Report – 'Accidental deaths and suicides in India 2015', released recently, a total of 12,602 persons working in farming sector have committed suicides during 2015. The total number of suicides 12,602 in 2015 is higher than 12,360 farm suicides in 2014. Report shows that indebtedness accounted for most farmer suicides in the country in 2014 and 2015. Although both these years were drought years, crop failures due to natural causes had a much smaller share in farmer suicides than financial reasons such as indebtedness. This underlines the fact that the challenge of recovering the costs of production is often a bigger challenge for farmers compared to the challenge of raising output.
Will we bail out farmers out of crisis post demonetization?
Agriculture has been affected badly by the demonetization. It coincided with harvest of kharif crops, and farmers are still facing difficulty in selling their crops due to the cash crunch. Incomes in farming are extremely seasonal. As farm produce is perishable in nature so it's difficult for farmer to adjust to sudden change in demand. The report of farmers destroying their produce on roads does not paint a good picture of demonetization. Second, lack of cash has posed difficulty for farmers in sowing of Rabi crops.  Although, government has said sowing is more than the previous year. But these are the estimates and are provisional in nature. Government must announce some relief for farmers in the ensuing budget.
——————————————————————————————————————————————————————————–