Raising chickens can improve poor's' income and give them food security
Nirmesh Singh
Bill Gates, the richest man on earth, said – If you were living on $2 a day, what would you do to improve your life?  His answer was – he would raise chickens. Raising chickens is probably the easiest and cheapest way to make money as well as to assure a food supply if you are poor and have access to land.
This is what he learnt from meeting people in poor countries who raise chickens. Anyone who's living in extreme poverty is better off if they have chickens.
World has nearly 1 billion people living in extreme poverty today.
Clearly, Bill Gates understands the potential of chicken and eggs, so had the Indian social organization 'Kegg Farms' that understood it five decades back and today they are associated with over one million poor households empowering women and their incomes across 19 states of India.
According to Bill Gates, "Chickens are easy and inexpensive to take care of as many breeds can live off what they eat off the ground and just need a rudimentary shelter to protect their nests and eggs. They would need few vaccines to prevent from deadly diseases that would cost less than 20 cents".
He adds, "Farmers can start with five hens and use a neighbor's rooster to fertilize them. This will give them 40 chickens within three months. They or their eggs can be sold off for incomes. Like in West Africa, a chicken can sell for $5 each. Thus, farmers could earn as much as $1,000 per year, in income. It will help them to step up beyond the extreme poverty line of $700 a year. They empower women because chickens are small and typically stay close to home. Women who sell chickens are likely to reinvest the profits in their families".
Additionally, eggs are a protein-rich food source. They help keep children healthy. Malnutrition kills more than 3.1 million children a year. Eating more eggs—which are rich in protein and other nutrients—can help fight malnutrition. Generally farmers with small flocks find that it's more economical to let the eggs hatch, sell the chicks, and use the money to buy nutritious food. But if a farmer's flock is big enough to give her extra eggs, or if she ends up with a few broken ones, she may decide to cook them for her family.
Bill Gates further said that their foundation is working throughout sub-Saharan Africa to create sustainable market systems for poultry. It's especially important for these systems to make sure farmers can buy birds that have been properly vaccinated and are well suited to the local growing conditions. Their goal is to eventually help 30 percent of the rural families in sub-Saharan Africa raise improved breeds of vaccinated chickens, up from just 5 percent now.
Now, this tells the tremendous potential of poultry farming. 'Keggfarms' has already many success stories about enhancing livelihoods, empowering women and quality of life by nurturing eggs and chickens. The organization has its own research and development facility and has developed own birds and eggs. They are maintaining a gene pool for last 50 years.
According to the Vipin Malhotra, CEO of Kegg Farms, "Their goal is empowering women and enhancing rural house hold incomes. Bird they have developed is called Kuroiler and its eggs are called keggs. Bird survives on the waste and lays four times more eggs than the traditional breed. The growth of chicken is faster as it grows to nearly three kilograms in 24 months in which a local chicken breed becomes only of one kilogram".
 Potential of Poultry – Current Scenario in India
In last 25 years, the egg production has gone up to 70 billion from few millions and the broiler production has gone to 3.8 million tonne from nowhere. Poultry in fact seems to be the most organized sector in animal agriculture, worth rupees one lakh crores. The growth is 6-8 percent in eggs and 10-12 percent in chickens per year against the growth of agriculture as a whole which is around 2.5 %.
After China and United States, India is the third largest egg producer in the world and the fourth largest chicken producer after China, Brazil and USA. The per capita eggs consumption has gone up from 30 to 68 and that of chicken from 400 gram to 2.5 kilogram. Nutritionists recommend eating of 180 eggs & 10 kilogram chicken annually. Most countries consume over 240 eggs and 20 kg of chicken.
Union Minister for Agriculture and Farmers Welfare, Shri Radha Mohan Singh on World Egg Day last year raised concern over the availability which is just 63 eggs per person per year in the country, while as per National Nutrition Institute this should be about 180 eggs per person.
Considering these factors, there is vast scope for enhancing the production.
Explaining eggs market in India, Samarendra, Director of Ovo Farms located in Bolangir district of Odisha said, "India is essentially a market for white shell eggs. All the commercial farms are producing white shell eggs only. Egg market in India is growing at around Compound annual growth rate (CAGR) of 15 percent. The market size is around Rs 10000 crore".
He also told that Ovo farm has an egg laying capacity of one million eggs.
According to the Integrated Sample Survey, the total egg production in the country in 2016-17 was 29.09 billion registering a growth of 6.42 percent with Tamil Nadu, Andhra Pradesh, Telangana, West Bengal and Haryana being the top five egg producing states. As against the targeted production of 87.05 billions of eggs during 2016-17, the total estimated production in two seasons, summer and rainy, is 55.11 billion showing an achievement of 63.31%. The production of egg is largely contributed by commercial poultry farms with nearly 75.75% and remaining production is from household/backyard poultry.
 Poultry Exports from India
India does not export eggs and chicken in huge quantities as there is still a huge gap in production and need within the country. In addition to this, the food markets in many countries like Unites States and Europe are very quality and price sensitive.
According to Samarendra, Director of Ovo Farms, "India exports eggs to other countries but the export figures vary a lot depending on which country allows eggs from India. Still, African and Middle East countries are good markets. Some countries ban the import of eggs if there is an outbreak of some diseases like avian influenza, etc".
As per Agricultural and Processed Food Products Export Development Authority (APEDA), India exported 6.6 Lakh MT of poultry products worth Rs 768.72 crores during the year 2015-16.
 Challenges – Health Hazards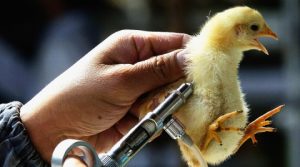 It has been found that poultry farms are injecting birds with various steroids and antibiotics and bringing them up in space crunched small cages. Experts have concerns that eating antibiotics injected chicken or eggs can make consumers resistant to drugs and render them susceptible to various diseases.
Deepak, a supervisor in the poultry farm in Panipat district of Haryana told that the birds are injected with growth hormones and impregnated forcefully. There are at least 10 kinds of different chemical and biological powders that are mixed in the feed to make the birds deliver eggs faster.
In a study conducted by the Centre for Science and Environment (CSE) on broiler chickens, it was found that 40 percent of the samples were contaminated with antibiotic residue.  The six most common antibiotics used in the poultry business are oxytetracycline, chlortetracycline and doxycycline (from class tetracyclines); enrofloxacin and ciprofloxacin (from fluoroquinolones); and neomycin, an aminoglycoside.  The United Nations has also raised the concern and asked India to urgently address the growing issue of antimicrobial resistance in the country due to indiscriminate use of antibiotics.
India checks disease infested imports
Last year, India had banned poultry imports from the US and other WTO member countries fearing low pathogen avian influenza (bird flu) infested chicken meat and eggs. Because of the restrictions imposed by India, the US had not been able to export chicken legs to Indian markets. Later, WTO ruled against this ban and therefore India revised the restrictions and specified that the import from areas infested with disease will remain restricted while permitting imports from unaffected areas.
As per APEDA, USA is trying to encash on the price gap between the breast meat and leg meat in USA. They get paid four times higher price for 30 percent of the breast meat and the legs are offal for them.
Although India is among the top egg producer countries in the world and the production of eggs in the country is about 83 billion but there is a vast potential in poultry and more production is needed particularly eggs. Only right steps, policy and support mechanism will help realizing the potential of poultry and helping farmers to augment their income.
——————————————————————————————————————————————————————————-