AgriNation News Network
New Delhi | 05 Feb 2018
A young woman in United States has shared her experience of first job on her Instagram handle. She took up her first job in agriculture, right there in farms.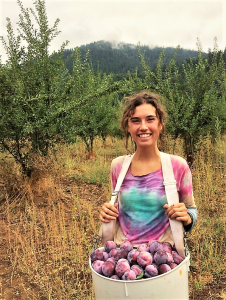 In her Instagram Post, Rachel LaManna (@r_annamal ) wrote
"When my mum encouraged me to find my first job, I found myself picking sweet corn alongside friends for a farm who made me feel like family, whose produce fed my local community. A job didn't really feel like work anymore. Farming is a way to keep communities together, for different generations to intermingle, and to remember that we all share the same mother: Earth. Nothing else is quite so enchanting, satisfying, and humbling".
She also added, "If magic is real, I've found it here. Don't understand how I got to be so blessed, but I couldn't have imagined a more perfect family and farm to be living and playing around with these past four months".
No wonder, Mahatma Gandhi once said, "I should like to slip out of the public gaze to bury myself in the farm and devote my attention to farming and educating."
But the milieu in India is quite different. Here, parents in India, often tell their children to study seriously or they would send them village to work in fields and shepherding cattle.  This describes the situation of agriculture in India. This shows a work of farmer is not at all worthy. This act prevents the school children from knowing – what being a farmer is.
This reminds of a food activist, Alice Waters, who said, "Teaching kids how to feed themselves and how to live in a community responsibly is the centre of an education".
And for that, she added, "We have to bring children into a new relationship to food that connects them to culture and agriculture".
---
---