Nirmesh Singh
New Delhi | 03 Jan 2016
According to the National Crime Records Bureau Report – 'Accidental deaths and suicides in India 2015', a total of 12,602 persons working in farming sector (consisting of 8,007 farmers/cultivators and 4,595 agricultural labourers) have committed suicides during 2015. The total number of suicides 12,602 in 2015 is higher as compared to 12,360 in 2014.
Reacting to the report, Shri Devinder Sharma, expert and crusader on issues related to agriculture & food policy, said, "The data of last 20 years from 1995-2015 shows 3, 18,528 suicides. This should have sent a critical message to the all the governments' and entire nation but it seems to be no more than the statistical data for them. Unfortunately, the seriousness about addressing the agrarian distress has still not become the priority of our policy makers".
The report revealed highest number of farm suicides in Maharashtra (4,291 suicides) followed by Karnataka (1,569 suicides), Telangana (1,400 suicides), Madhya Pradesh (1,290 suicides), Chhattisgarh (954 suicides), Andhra Pradesh (916 suicides) and Tamil Nadu (606 suicides) during 2015. These states accounted for 87.5% of total farm suicides – 11,026 out of 12,602 suicides. According to NCRB, the major causes of farm suicides are – 'Bankruptcy or Indebtedness' and 'Farming Related Issues' were the major causes of suicides among farmers, accounting for 58% suicides (4659 out of 8,007 suicides).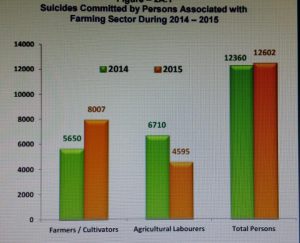 The other prominent causes were 'Family Problems', 'Illness' and 'Drug Abuse/Alcoholic Addiction, accounting for 25% of total farmers' suicides. The report also said that 73% of farmers' suicides (5,813 out of 8,007) were committed by Small & Marginal Farmers who have land holdings of less than 2 hectare. For the purpose of this report, NCRB has classified the people working in farming sector as – Farmers and Agricultural Labourers. Farmers are those whose profession is farming and who either cultivates his/her own land or who cultivate lease land with or without the assistance of agricultural labourers. 'Agricultural Labourers' are those persons who primarily work in farming sector and whose main source of income is from agricultural labour activities.
————————————————————————————————————-