Nirmesh Singh
New Delhi, 09 Aug 2023
In less than a year's time, India will be going for Lok Sabha elections in 2024. Yet, the opposition's alliance INDIA is not so vehement in taking up the issue of farmers income and law on Minimum Support Price (MSP) seriously. No serious questions on this issue are being asked in Parliament.
A question by Kodikunnil Suresh, a Congress MP from Kerala should have asked for more. Yet, the Modi government could not answer it and also failed to provide data.
Congress MP from Kerala asked Union Minister of Agriculture and Farmers' Welfare for the details of whether the government has been able to increase the income of farmers from the benchmark rate of 2016 and the details of increase in the average income of farmers in the country. He had also asked if the farmers include farm workers also.
In a written reply to question from Congress MP in the ongoing Monsoon Session of Parliament, Union Minister of Agriculture and Farmers' Welfare Narendra Singh Tomar, was silent on these questions and did not provide any data.
Ramandeep Singh Mann, a noted activist on agriculture, tweeted, agriculture minister's reply has given only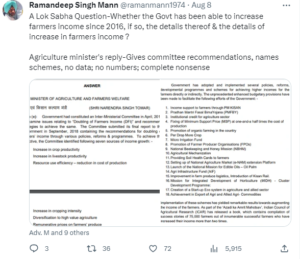 committee recommendations, named schemes, no data, and no numbers. He called it complete nonsense.
Minister gave same old reply to the question that government had constituted an Inter-Ministerial Committee in April, 2016 to examine issues relating to "Doubling of Farmers Income (DFI)" and recommend strategies to achieve the same and that the committee had submitted its final report to the Government in September, 2018 containing the recommendations for doubling of farmers' income through various policies, reforms & programmes.
It is to be noted, farmer's income has been the core issue in agriculture for the last one decade now. Modi Government even promised doubling the farmers' income by 2022. Various farmers' organizations have been demanding a law to guarantee Minimum Support Price (MSP) ever since the Modi government repealed the three controversial farm laws.
________________________________________________________________