Agri Nation Network
New Delhi | 08 May 2017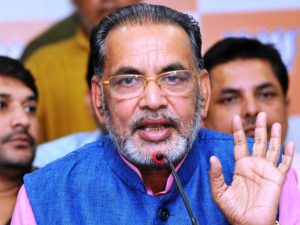 Though India Meteorological Department (IMD) has projected a good monsoon for Kharif 2017 season but in order to tackle any adverse situation like monsoon failure, Union Agriculture & Farmers Welfare Minister Shri Radha Mohan Singh has written all Chief Ministers for the review of preparedness for such situation.
Minister said, "2016-17 was a very satisfactory year for the agriculture sector as a whole yet agricultural operations faced disruption in some states due to drought caused by aberrant weather conditions. It would, therefore, be helpful if a review of the state of preparedness in managing any weather related contingency is carried out in advance so that the possible adverse impact of sub-par rainfall, if at all, on the farmers can be mitigated".
Government has taken the step after Supreme Court while hearing a drought related Public Interest Litigations (PIL) earlier this year had emphasized the need for a comprehensive national policy to protect farmers, many of whom have committed suicide due to rising debt and crop failures caused by natural calamities. The PILs filed by NGO 'Citizens Resource and Action and Initiative' and Swaraj Abhiyan wanted the apex court to direct the government to act on drought like situation, farmers' suicides and agrarian distress due to it. Recently, the country also witnessed a 40 days protest by Tamil Nadu farmers in New Delhi who have suffered on account of the worst drought in the state in last 140 years.
Radha Mohan Singh has urged the Chief Ministers to take all drought mitigation/management measures that Prime Minister Modi had discussed in meetings with Chief Ministers of States affected by drought during 2015-16.  Radha Mohan Singh has suggested that review should include preparedness in districts in line with the District Agricultural Contingency Plans (like availability of e.g. abiotic stress resilient seeds varieties etc.) and review of progress in the implementation of schemes under District Irrigation Plans of the Pradhan Mantri Krishi Sinchai Yojana. He also emphasized on the completion of water conservation/recharge/harvesting related works under MGNREGS and water-shed management and setting up of Drought Management Centre at the State Headquarter for the monitoring of drought. He also asked the states for restoration of irrigation infrastructure and repair of hand pumps/drinking water projects.
Agri Minister further informed that the Central Government has permitted States and UTs to earmark 25% of funds under centrally sponsored schemes as flexi-funds which, inter-alia, could be used for mitigation of natural calamities. In addition, he asked to expand the coverage of the Pradhan Mantri Fasal Bima Yojana to enable farmers to minimize risks associated with loss of crop production in the event of a disaster.
———————————————————————————————————–